About Baranof Wilderness Lodge
We would like to take this opportunity to introduce ourselves. We are Mike and Sally Trotter. Our passion is to share three decades of fishing, exploring and outfitting in Alaska with Our Guests.
Simply put – Baranof Wilderness Lodge is an experienced and novice anglers paradise. Expect unforgettable fishing and wildlife encounters, incredible cuisine, cozy accommodations and memories to last a lifetime.
We and our entire Team are committed to providing you with the personal attention you should expect and deserve. With a 90% repeat/referral customer list as testimony to our successful program, believing our new Guests are friends we haven't had the opportunity to meet yet and we certainly treat you as such.
Make your plans with us with confidence. We offer You our personal invitation, to join us at Baranof Wilderness Lodge for a extraordinary time of your life as undeniably one for your Bucket List.
Fishing Programs At the Lodge
Fishing Options: You may choose your fishing experience each day, from freshwater to saltwater, stream or lake, light tackle spinning, or flies. World class waters are all a short hike or boat ride from our lodge.
Species Available: King Salmon (Chinook), Silver Salmon (Coho), Pink Salmon (Humpy), Chum Salmon, Sockeye Salmon, Dolly Varden, Cutthroat Trout and Rainbow Trout, giant Halibut, and many varieties of Rockfish.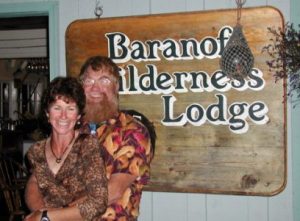 We look forward to our trails crossing on the next great Alaskan Adventure. Best fishes – Mike & Sally Trotter
Boat Arrangements: Baranof Wilderness Lodge uses comfortable, safe 24 foot Cuddy Cab cruisers and 16 foot aluminum skiffs. We pride ourselves in choosing the most durable marine watercrafts available. Our fleet is equipped with GPS, sonar, and the latest Raytheon marine radar. All boats are Coast Guard licensed, approved, and equipped with all required safety gear.
Tackle: All saltwater tackle, rods, reels and bait are provided. Freshwater fly and spinning rods are also available with custom flies and tackle that may be purchased in our shop.
Our Guides: Our truly talented staff and guides have the benefit of many years of experience. We all have an enormous love of fishing and the Alaskan outdoors, but most of all we enjoy sharing the experiences with others. Our staff of professional guides are licensed and certified by the U.S. Coast Guard.
Maintaining a Resource
We at Baranof Wilderness Lodge use barbless tackle and practice catch & release for all fresh water fisheries. We respect and thrive to preserve this precious ecosystem for the future while working hard to minimize the impact our presence brings to this great land. At the Lodge, we will package and freeze one box of halibut and salmon (from salt water) per guest for travel home.
The unpressured waters around our lodge offer the most abundant and diverse salt- and freshwater fishing available in Alaska. Dozens of spectacular bays, estuaries, fishing streams and lakes within a
short boat ride or hike from our lodge offer premier angling.
Tongass National Forest
The Tongass National Forest, surrounding Alaska's Inside Passage, is our national treasure: one of the last forests of its kind in the world where old growth forests, brown bears, eagles, and wild salmon still thrive.
Covering 17 million acres, over 1,000 islands, and stretching an area the length of Florida, the Tongass is America's largest National Forest.
This temperate rainforest provides a healthy, vital habitat for fish and wildlife, as well as world famous opportunities to fish, hunt, view wildlife, and enjoy the quiet of nature.
This symbol of Alaska, the Tongass National Forest, is home to healthy and abundant wildlife, vital spawning habitat for Wild Alaskan salmon, and world-renowned opportunities for recreation. With careful management, it will remain this way for generations to come.
Conserving the Tongass National Forest will preserve this one-of-a-kind rainforest and Alaska's outdoor heritage and way of life