Welcome to Baranof Wilderness Lodge – Seminars
There are several weeks during the summer where we spotlight special feature instructors with extraordinary talents.
A few of our favorites are listed below, with a brief description of their specialty.
Ken Hanley's – Fly Fishing School
Ken Hanley's experience spans the globe from the highest peaks of Tibet and the Himalayas, to the remote wilderness regions of Alaska.
He is the author of many books including California Fly Tying and Fishing Guide, Surf Zone, Fly Fishing The Pacific Inshore, and contributing Editor/Columnist for the California Fly Fisher. He has presented seminar programs at numerous outdoor clubs, conclaves and universities throughout the United States.
Learn fly fishing skills in both fresh and salt water settings through daily seminars. Open to all experience levels of fishers and their family and friends
John Hendrickson's – Wildlife Photography Seminar
John Hendrickson's well known photographs have appeared in National Geographic, Audubon, National Wildlife, Field & Stream, and more than 100 different nature books and calendars all over the world.
He is also the author/photographer of two books, Listening to Nature and Raptors.
Learn special photography skills and techniques from John as we encounter majestic whales, Alaskan Brown bears, and Bald Eagles in their natural habitats of the enchanting Southeast Alaska
Dan Blanton
Dan Blanton, from San Jose, California, now living in Morgan Hill, California with his wife, Cindy, is a well-known and respected fly fishing and casting instructor, lecturer, fly fishing author and outdoor photographer. He is acknowledged to be one of the pioneers in the development of Pacific coast and Central American saltwater fly fishing.
He is the recipient of the Federation of Fly Fisher's 1990 Arnold Gingrich Memorial Life Membership award for outstanding achievement in outdoors writing as related to fly fishing. He also is the F.F.F.'s 1995 recipient of the Silver King award for outstanding contributions to the sport of saltwater fly fishing. In April of 2002 Dan was inducted into the Fly Fishing Hall of Fame. An acclaimed fly tier, Dan originated the Whistler Series, Punch Series, Sar-Mul-Mac Series, Sea Arrow Squid, Bay-Delta Eelet and many other world renowned saltwater fly patterns. His patterns, originated in the late 1960s and early 70s, remain popular and productive world-wide.
The former Managing Editor of Angler Magazine, Dan is currently an Editor-at-Large for Fly Fishing Salt Waters magazine, Fly Fisherman magazine and the California Fly Fisher. Dan is also one of TCFF's International Field Editors. He was the Salt Water Fly Fishing columnist for Sport Fishing magazine and Fly Fish America magazines for more than a decade. A free-lance writer for more than 35 years and an active member of both the Outdoor Writers Association of California, and the Outdoor Writers Association of America, Dan contributes regularly to many fly fishing periodicals both in the USA and abroad. His Book Fly Fishing California's Great waters have received excellent reviews.
University of Southeast Alaska Elderhostel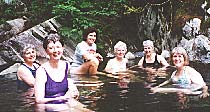 Contact the University of Southeast Alaska for more information on this unique Outdoor Education learning experience, visit their web site here!
Outdoor Adventure and Exploration Programs
Our staff includes a Wilderness and Outdoor Adventure Education specialist. Programs include kayaking to tidepools and freshwater creeks, exploring ancient forests, observing bears, eagles, and whales.
Bald Eagles – River Otters  Brown Bears – Humpback Whales – Orcas – Harbor Seals  Stellar Sea Lions – Rare and Endangered Birds – Tide Pool Invertebrates